Are you looking to create a process document but unsure how to execute it? You've come to the right place. A process document gives you a detailed description of how to work on a process from beginning to end. With clear process documentation, you can remove the complexity of various processes and make them repeatable.
In this blog, we'll explore the 10 key steps involved in writing process documentation.
How to write a process document in 10 steps
As business organizations grow, tasks inevitably get more and more complex. With plenty of moving parts in each task, you must keep track of everything from start to end. Without process documentation, everyone will likely follow their own steps, which may lead to massive inefficiency and chaos.
To overcome these challenges, you must learn how to write process documents effectively. Make sure you use these 10 key steps to create process documents correctly.
1. Identify the process
The first step in process documentation is identifying what you should document. This section answers the "why" part of process documentation. In this stage, you must determine the purpose of the process in question and how it contributes to your organization's goals.
For instance, you can ask questions like:
Is this a training guide for onboarding newcomers?
Can this help employees reduce their time spent searching for information?
Can this be used as a report for senior management?
Will this process help in making tasks more efficient?
How will this process benefit the company?
If you have multiple objectives, note them and prioritize them to determine which process you should document first.
2. Determine the scope
The scope of a process defines what will be delivered through the completed process. It outlines various things, such as objectives, estimated timeline for completion, priorities within the process, stakeholder responsibilities, etc. By defining these factors, you can prevent your team from information overload and focus more specifically on the process you are documenting.
Here's how you can determine the scope of a process:
Objectives: Estimate the overall objectives you are trying to achieve with the process.
Timeline: Identify the estimated timeframe it requires to complete the process.
Stakeholders: Determine the list of stakeholders involved in the process. If you are unsure about the exact stakeholders, identify the teams working on it.
Priorities: Determine the process priority compared to other processes in the pipeline.
Resources: Identify the resources required to complete the process within the estimated deadline.
Once you have determined all these factors, you can view your process better and its overall outcome.
3. Determine process boundaries
This step involves identifying where the process begins, where it ends and the people involved. To establish the right boundaries, you need to outline what constitutes the beginning of a process and what constitutes its end.
For instance, let's say you are trying to make your employee onboarding process efficient through process automation. Here, your boundaries might include finalizing the list of documentation materials for new employees and determining the right person to perform the onboarding.
During this step, you should also establish other metrics, like due dates for completion of each boundary step, key performance indicators, budget required, resources involved, etc. Clearly defined boundaries will help your team understand the limitations in the process and proactively act within these limitations.
4. Identify process inputs and outputs
This stage of process documentation focuses on what you need to complete the process successfully. Input refers to the resources required to complete the process and output refers to what is expected after the completion of the process.
Here is an example of how this works:
Process: Data backup analysis
Input: Types of data stored, storage locations, storage types, etc.
Output: A complete report on current backup health, data recovery time, security details, etc.
Identifying the inputs and outputs is crucial for successfully performing all the other steps in a process. With this information, you can break down your significant goals into smaller steps and allocate sufficient resources at each stage.
5. Organize process steps
Once you have gathered all the required input and output information, it is time to organize them into manageable steps. Here, you need to identify what triggers a particular step in a process. In other words, you must determine which step to complete for another one to begin.
If your process steps are not sequential, you must evaluate other factors, like priorities, due dates, etc., to determine the exact steps.
When dealing with multiple process steps, it is always better to have a brainstorming session with all the required stakeholders. During this session, ensure you include all those directly responsible for executing the process steps. After organizing your process steps, you can focus on assigning the roles to individual stakeholders.
6. Define process roles
This step focuses on describing the people involved in completing the process steps. You must assign roles for the individual stakeholders responsible for completing each step. When recording that in your process document, include their job titles and their names.
When defining process roles, you can include details like what needs to be delivered and their due dates. By doing that, you can ensure seamless completion of each process step before it moves on to the next one.
If the processes are too complex, you may also have to meet with the individual stakeholders directly and gather their input on the process deliverables. This prevents any last-minute surprises or any deviation from individual responsibilities.
7. Visualize the process
One crucial step in process documentation is the visual representation of the entire process. Research shows that adding visuals to documentation is the most effective communication since most people are visual learners. You can add visuals to ensure better clarity, easy communication and adequate information retention.
A flowchart is a simple way of visualizing a complicated process. A step-by-step workflow diagram will bring more clarity to the documentation and make information easily digestible.
Here is an example of a process (antivirus installation) in a visual flowchart: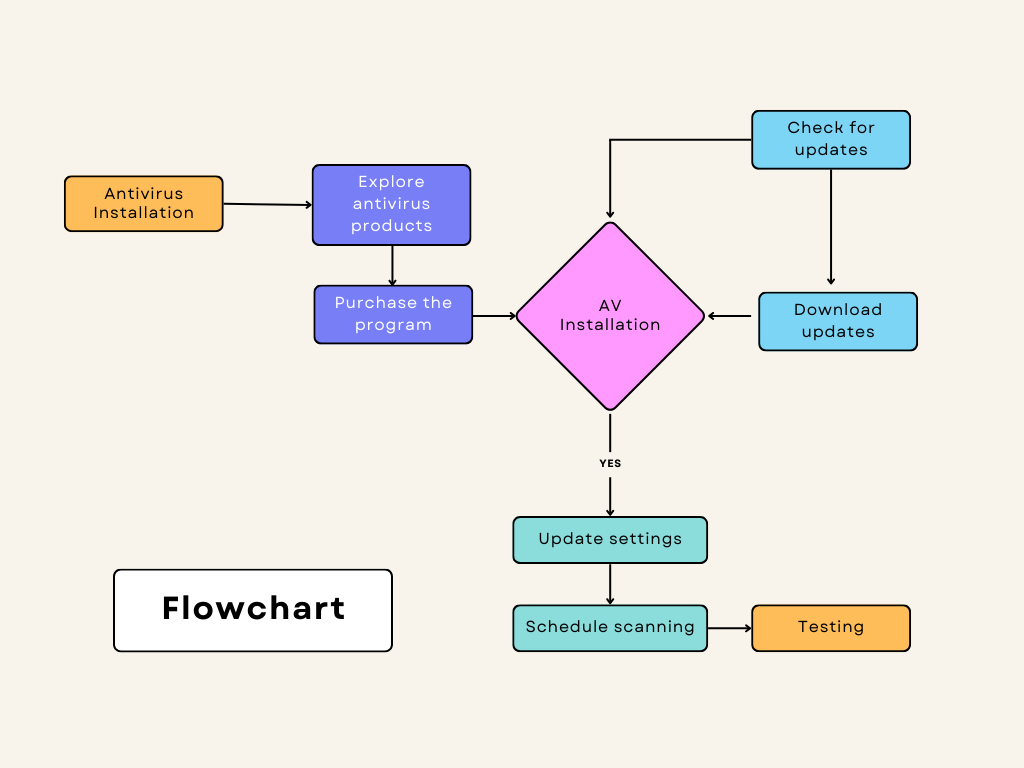 To create a flowchart of your process, start with the input and add the details of all the steps involved in completing the process. For every step, add the individual stakeholders responsible for its completion, along with the timeline. The flowchart should end with the output, which is the desired outcome of the process.
8. Document process flow exceptions
A process may not follow the documented path on every occasion. Process flows are likely to change depending on different situations. In such instances, you need to note down these exceptions to avoid any confusion in the future.
Let's consider the above flowchart, for example. If you already have a partnership with an antivirus solutions provider, you don't have to explore other antivirus products in the market. So, you can skip that step and go directly to the procurement part. Similarly, you can also automate the patching process so that updates are automatically installed whenever available. You can skip the "check for updates" and "download updates" steps here.
All you have to know is that a process may not follow your set path. In some cases, skipping or adding a step might require approval from top executives. When you have these exceptions documented, you can clearly understand how to proceed with them.
9. Set process controls
Besides exceptions, your process might also run into unexpected risks during its execution. You may have to set specific control points to adjust the process to the desired outcome and prevent these risks from completely ruining your process.
The main purpose of these process controls is to make the outcome predictable no matter how many times these processes are repeated. Process controls can either be simple or complex based on the number of process steps and the complexity of other parameters.
In case of complex issues, you must take extra care to reduce the margin of error and deliver the desired output.
10. Publish the document and test the process
Once you have clearly documented the processes, you must review the documentation and test the process as the final step. This is where you ensure that your process is working as it should.
During this stage, you can track the performance of the process and identify any issues that may arise during its execution. For minor issues, you can make corrections in real-time and document these corrections. For complex issues, you may have to rework a particular step and develop the required solution.
Testing is not a one-and-done activity. You must perform multiple iterations of testing and ensure you achieve optimal results every time. Based on the feedback you receive in this testing stage, you can refine and update your process documentation with better information.
Streamline process documentation writing with IT Glue
IT Glue is an award-winning documentation solution that allows you to centralize your process documentation alongside your hardware assets, software assets, passwords and SOPs. This helps you streamline all business processes, like resolving tickets, building client relationships and managing projects, as efficiently as possible.
IT Glue has out-of-the-box checklists and ITIL SOP templates that allow you to kickstart your process enhancements immediately. IT Glue's SOC 2-compliant documentation platform features an immutable audit trail, multifactor authentication and next-generation password management engine, all fully integrated and linked with all your process documentation.
To learn more about how IT Glue can help improve process documentation,