New integrations: Datto SaaS Protection and Spanning Backup for Google Workspace
Data is the lifeblood of modern organizations across the world. Considering its significance in building intelligent organizations, managing and protecting your data is critical. However, this could be challenging since most organizational data resides in different locations — on-premises storage systems, the cloud, SaaS applications or other devices. Managing data from different sources is getting complicated, and this could compromise your clients' security.
That's why extracting critical backup data from the various tools you use and centralizing it in one solution can help ensure complete visibility and protection across all the environments you manage.
Complete visibility with IT Glue and backup integrations
Most technicians don't log into their backup solutions daily. Backup is more of a set-and-forget tool that is usually accessed only by administrators. Although, technicians might still need to access backup information occasionally.
With the Unitrends and Datto Continuity integrations in IT Glue, you get total visibility into your hardware assets and their backup details to determine whether they are protected. On top of understanding the backup health of your devices, you also need to understand the backup information of critical SaaS solutions you support, including Microsoft 365 and Google Workspace.
The new Datto SaaS and Spanning Backup integrations enable you to holistically understand the status of your protected assets and users with ease.
Ensure business continuity with Datto SaaS Protection
This new integration helps you auto-document Datto SaaS Protection information for Microsoft 365 and Google Workspace services directly in IT Glue. Since your backup details reside right next to your IT documentation, you can easily determine which environments are protected or not.
You can view all your managed environments' Datto SaaS Protection backup information in a single pane, including backup status, health, coverage and sync status. Without going into your backup tool, you get to know the exact backup status of all your managed environments, giving you complete peace of mind.
On a per-managed environment level, you can view details such as Protected Seats per application and Backup Health. On a global level, you can see the backup status of all managed environments. These details provide a holistic view into your organization's backup status.
You'll also see the Datto SaaS Protection Backup Percentage (in the last 24 hours) across all your managed environments, or per environment, giving you the granularity you need to manage your environments holistically.
Visit this Knowledge Base article for a step-by-step guide on how to set up the Datto SaaS Protection integration.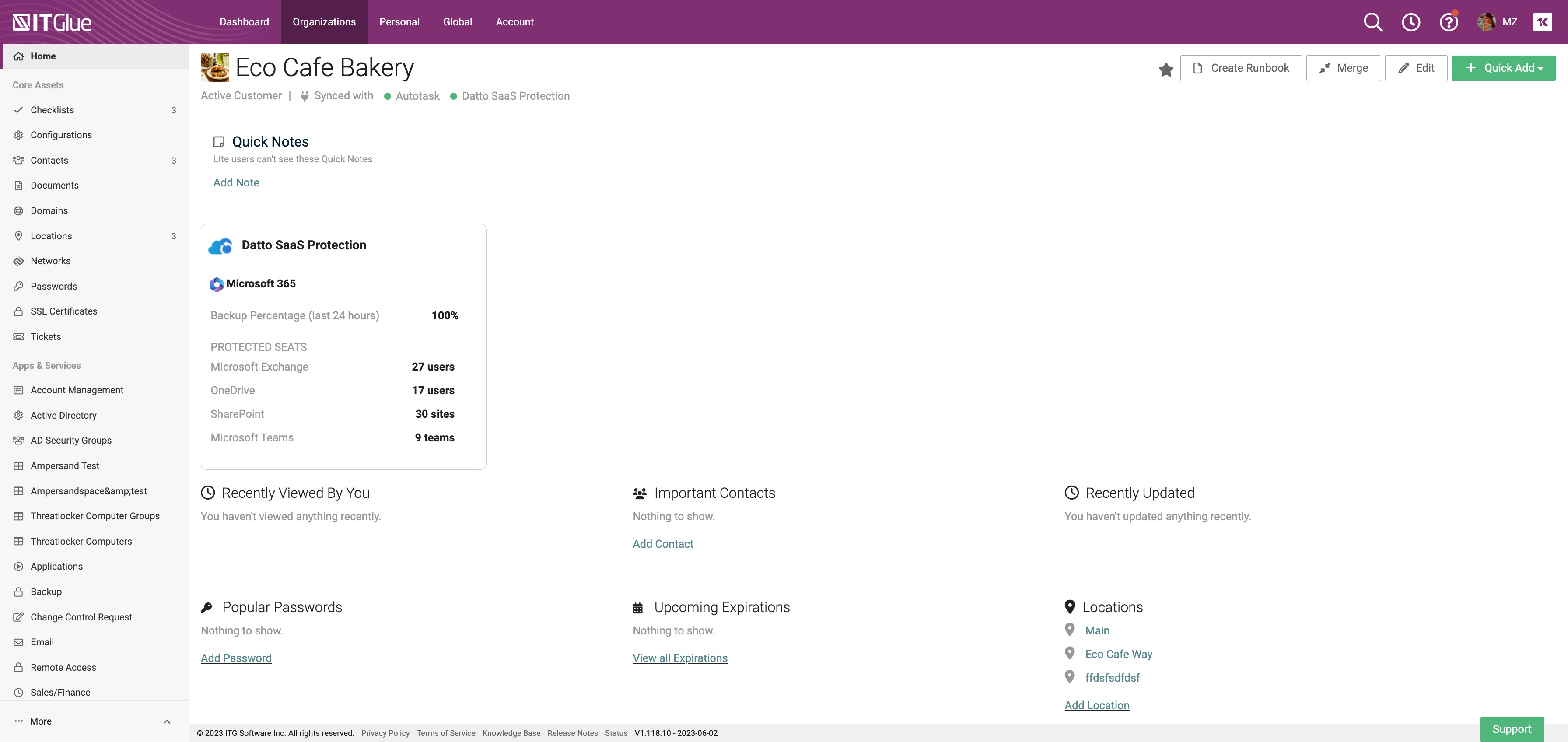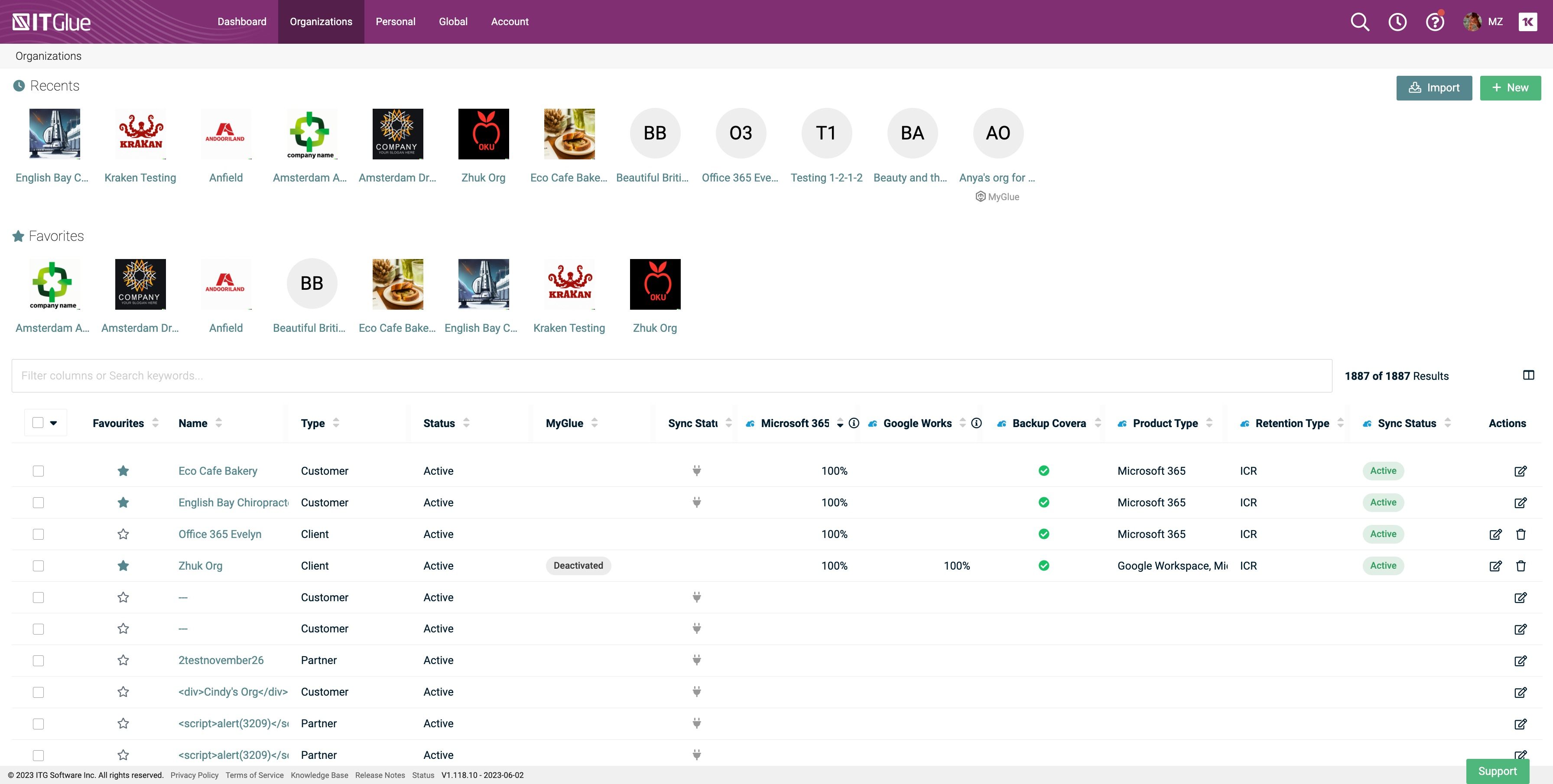 Complete Contact backup documentation with Spanning
With the new enhancement to the Spanning Backup integration, you can see both your Microsoft 365 and Google Workspace backup information in IT Glue, giving you a complete view into your user protection status.
With Spanning for Microsoft 365 and Google Workspace integration in IT Glue, you can view your Mail, Calendar, Contacts and Drive backup details alongside the rest of your Contact information already in IT Glue. You can easily determine the user protection status for both Google and Microsoft solutions, along with other backup details like the last backup time, status, total protected asset size and asset backup time in IT Glue.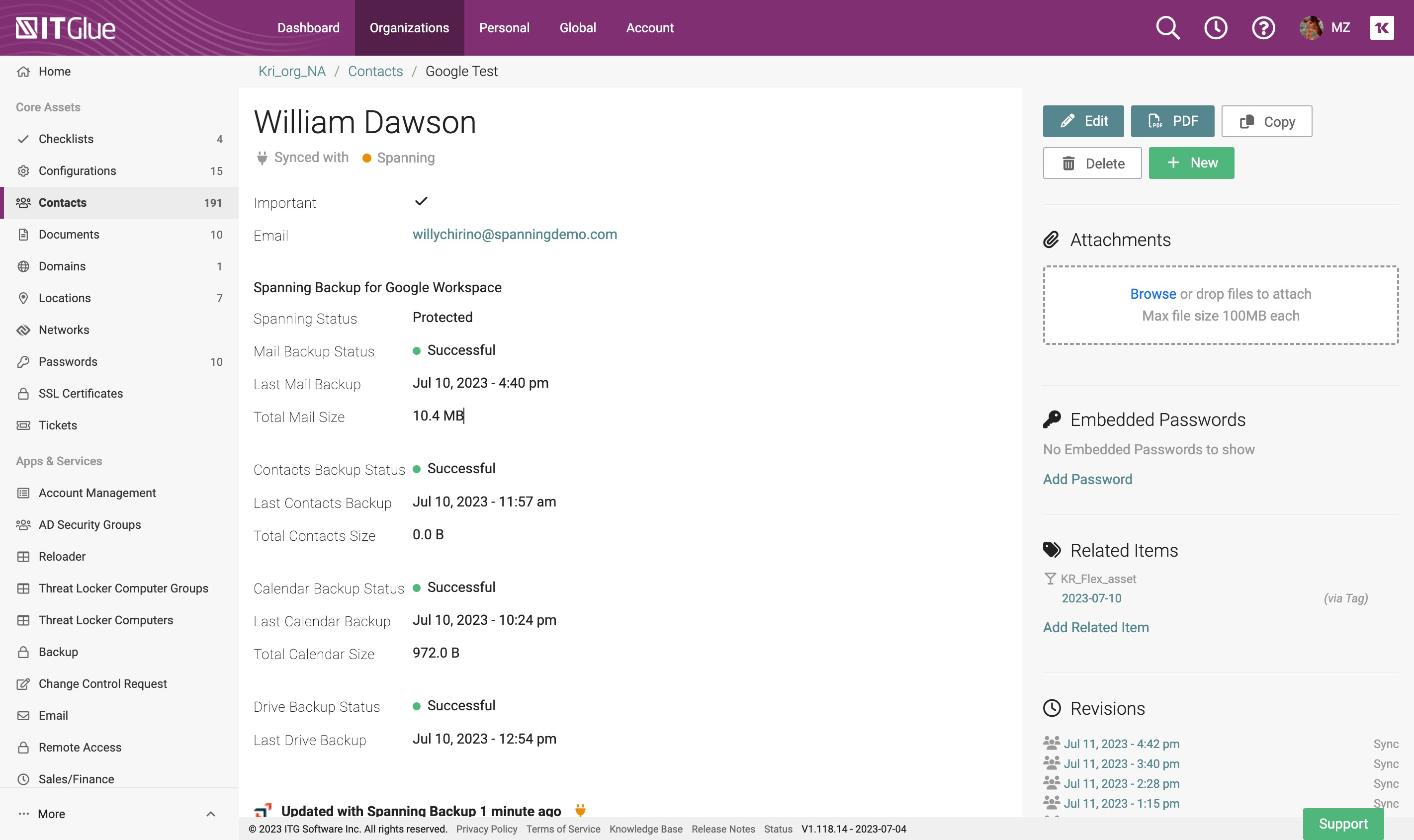 Visit this Knowledge Base article for more information on the Spanning Backup integration.