IT Glue's suggested documentation and checklists in Autotask
There are two solutions that every MSP needs to conduct their everyday business — their documentation tool and their PSA. That's why bringing these two together creates a more seamless experience for everyone involved, resulting in more fulfilled colleagues and happier customers.  
The Autotask and IT Glue integration is the ultimate pairing. It enables you to improve technician workflows, decrease ticket resolution time and maximize efficiency by streamlining repeated tasks and easily accessing the critical information needed to support clients.  
Consistently provide top-level service and resolve tickets faster
With this integration, you can quickly and efficiently resolve issues and reduce ticket volume so that your technicians can provide the best possible service while maximizing their time. As a result, all your business operations become more seamless. 
By consolidating the information from your documentation tool and PSA, you can reduce the cost-of-service delivery because you no longer have to waste time looking for data across multiple systems and platforms. 
You also get a quick view of all your data because all your critical information is centrally available in one place, with two-way syncs for organizations, contacts and configurations. One-way syncs are available for locations and tickets between Autotask and IT Glue. 
IT Glue Passwords and Documents in Autotask Ticket
By putting IT Glue Passwords and Documents directly in an Autotask Ticket, you reduce the need for technicians to leave the Autotask Service Desk to find the knowledge they need to resolve the request. 
IT Glue information is dynamically shown on tickets based on configured auto-documentation rules to ensure technicians use the correct passwords, processes and procedures pertaining to the ticket they are working on. This helps even the newest team members crush their tickets quickly and accurately.  
There are three out-of-the-box auto-documentation rules available to you by default to help you get started: 
New hire onboarding 
Microsoft 365 
Printer management 
Do you have a specific process that you need technicians to follow every single time or a simple fix that everyone forgets about? Add these as custom rules to make sure you don't waste time.  
Although different organizations and teams have different needs, there are endless instances where auto-suggested documentation can be extremely helpful. We encourage you to create custom rules to personalize auto-suggestions for your specific needs and take your service desk efficiency to the next level.  
The rules can be based on various Autotask ticket attributes, such as title, description, tags, status, priority, queue, issue and sub-issue type. The first step is determining where you spend the most time and then building repeatable processes.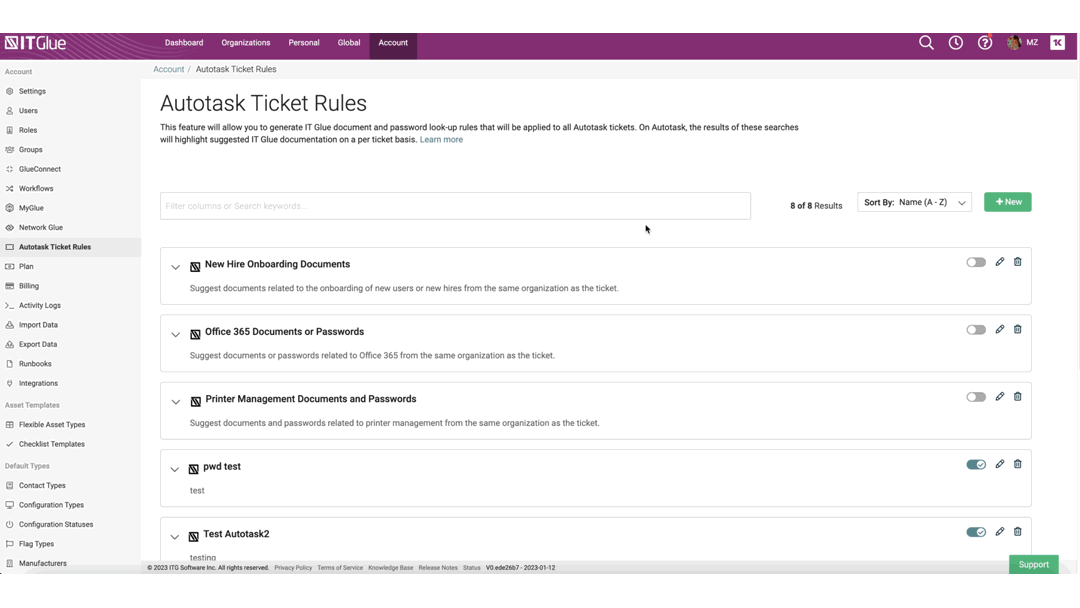 Tip: Review the last 60 to 90 days of service requests in Autotask to identify patterns of requests. For the top issue types, make sure that:
1. You have all the necessary information documented in IT Glue for each customer to solve these requests.
2. You create related items between the assets so they can easily be found in IT Glue.
3. You create custom rules, so the documentation is automatically displayed on Autotask tickets that pertain to that request.
IT Glue Checklists in Autotask Accounts 
Through the Autotask integration, you can also easily view IT Glue Checklists directly inside Autotask Accounts, helping you standardize account activities and ensuring they are accurately performed each time.  
Standardize Autotask Account-level activities with IT Glue SOP-focused checklists, such as onsite visits or QBR presentations. 
All IT Glue checklists associated with the Autotask Account are automatically surfaced and can be viewed and managed directly in Autotask. 
Learn more about the Autotask integration in this Knowledge Base article.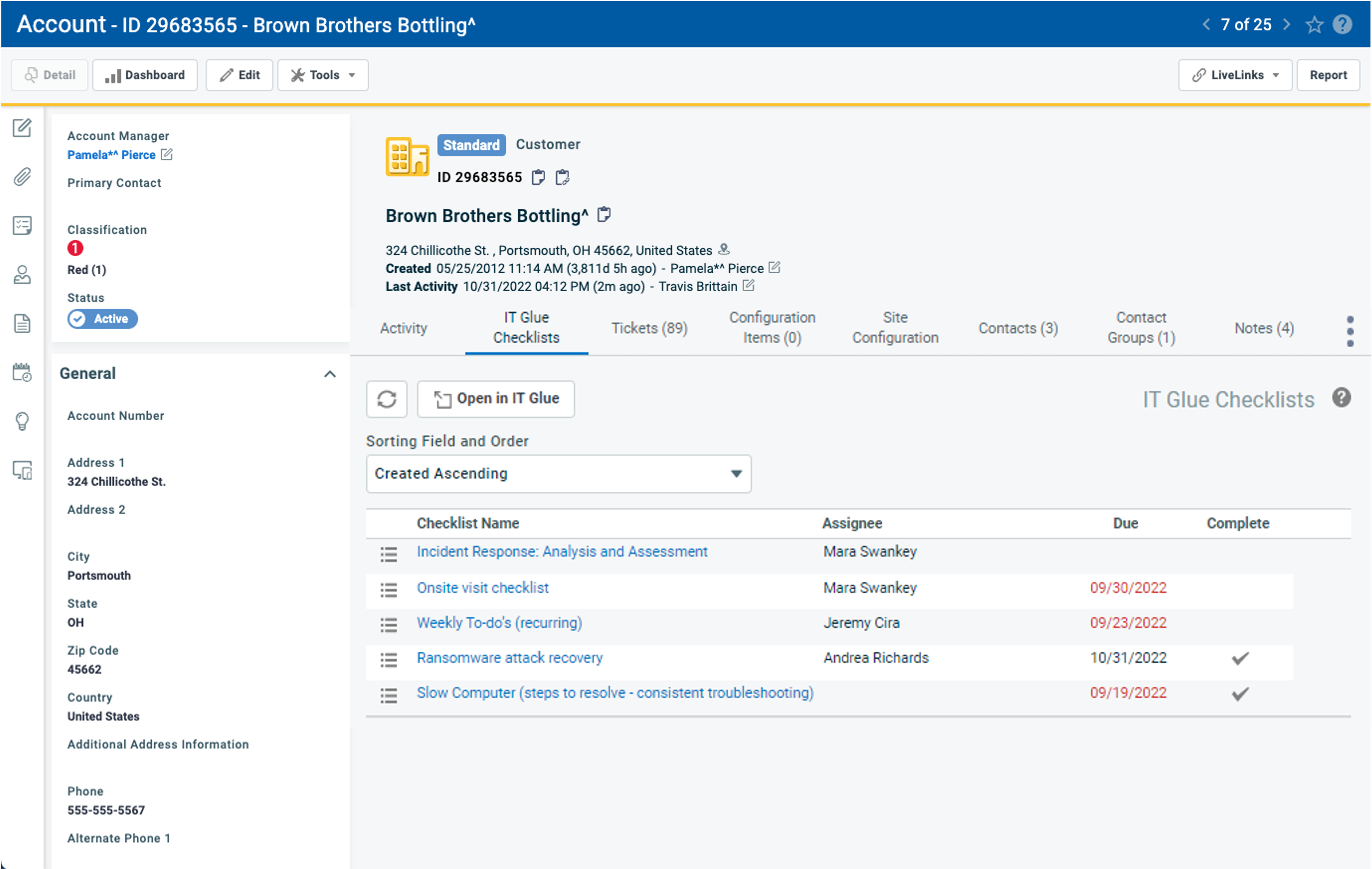 Want to learn more about the Autotask integration? Get a demo to see it in action.