In the ever-evolving world of cybersecurity, staying ahead of the curve is paramount. With cyberthreats on the rise, it's crucial to ensure users have the flexibility to maintain robust passwords and safeguard their valuable data. Your passwords serve as the first line of defense, and neglecting to change or renew them regularly can leave your organization exposed to risks. It's common knowledge that manually rotating passwords one by one can be quite a chore and a time-consuming process.
That's where our 1-Click AD Password Rotation feature comes into play. It simplifies the process of rotating on-prem Active Directory (AD) passwords directly from IT Glue. This feature brings several benefits, including the ability to efficiently bulk-rotate passwords and automatically sync new ones back into AD. Let's dive deeper into the intricacies of this feature.
We're fully aware of the ever-evolving cybersecurity landscape, and we're committed to continuously enhancing our features to meet these evolving challenges. With cyber threats constantly on the rise, we're dedicated to providing users with the flexibility they need to maintain secure passwords and protect their data with ease. With this mission in mind, we're thrilled to introduce two new live improvements: the AD Password Rotation Scheduler and Custom Roles.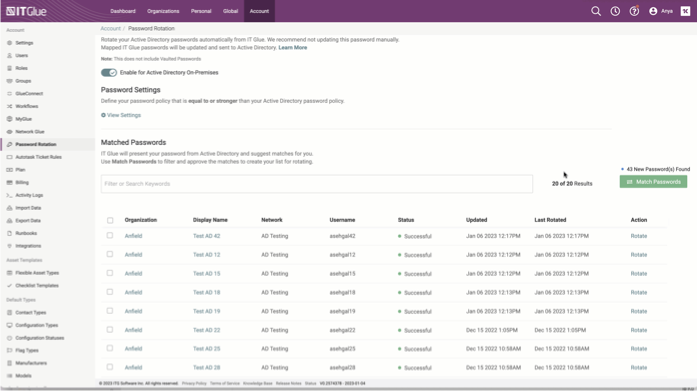 1-Click AD Password Rotation: On-demand or based on a schedule (NEW)
Our first enhancement is the introduction of the AD Password Rotation Scheduler, which allows you to automate password rotation based on a user-defined frequency. In addition to on-demand rotation, this new capability puts password rotation on autopilot, enhancing compliance and security. IT Glue Administrators can set the preferred frequency for AD password rotation, and selected AD passwords on a predetermined schedule will undergo automatic rotation.
This means you can set up password rotation to align with your organization's specific needs, ensuring that passwords remain fresh and secure without manual intervention.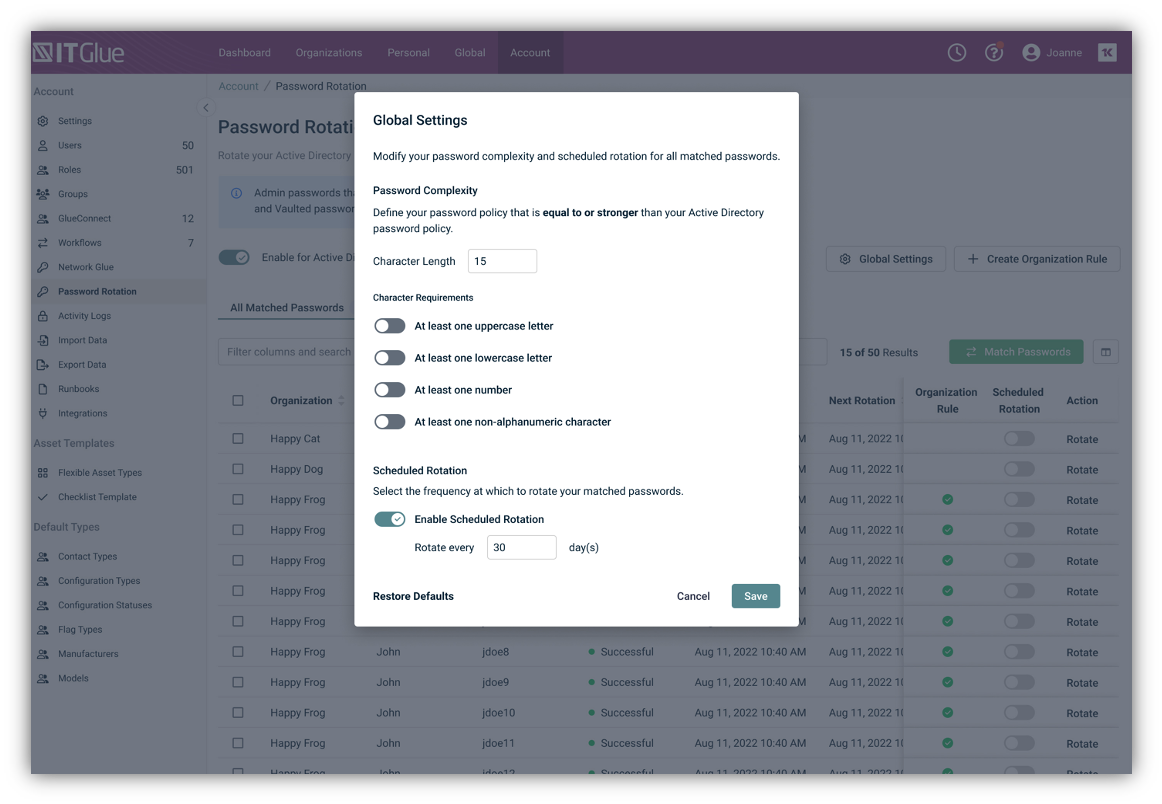 1-Click AD Password Rotation: Centralized account management with Custom Roles (NEW)
In addition to the existing capabilities, we've added Custom Role functionality. Administrators and managers can now delegate network management tasks, specifically password rotation in Network Glue, to other technicians and team members who previously lacked this ability. By utilizing the Custom Role for 1-Click AD Password Rotation, permissions can be updated without interfering with access to other IT Glue features. This guarantees that all relevant team members will possess the required access to the crucial task of password rotation, enabling administrators and managers to allocate more of their time and attention to other responsibilities.
With the introduction of Custom Roles, your team can efficiently manage password rotation while streamlining access control and delegation.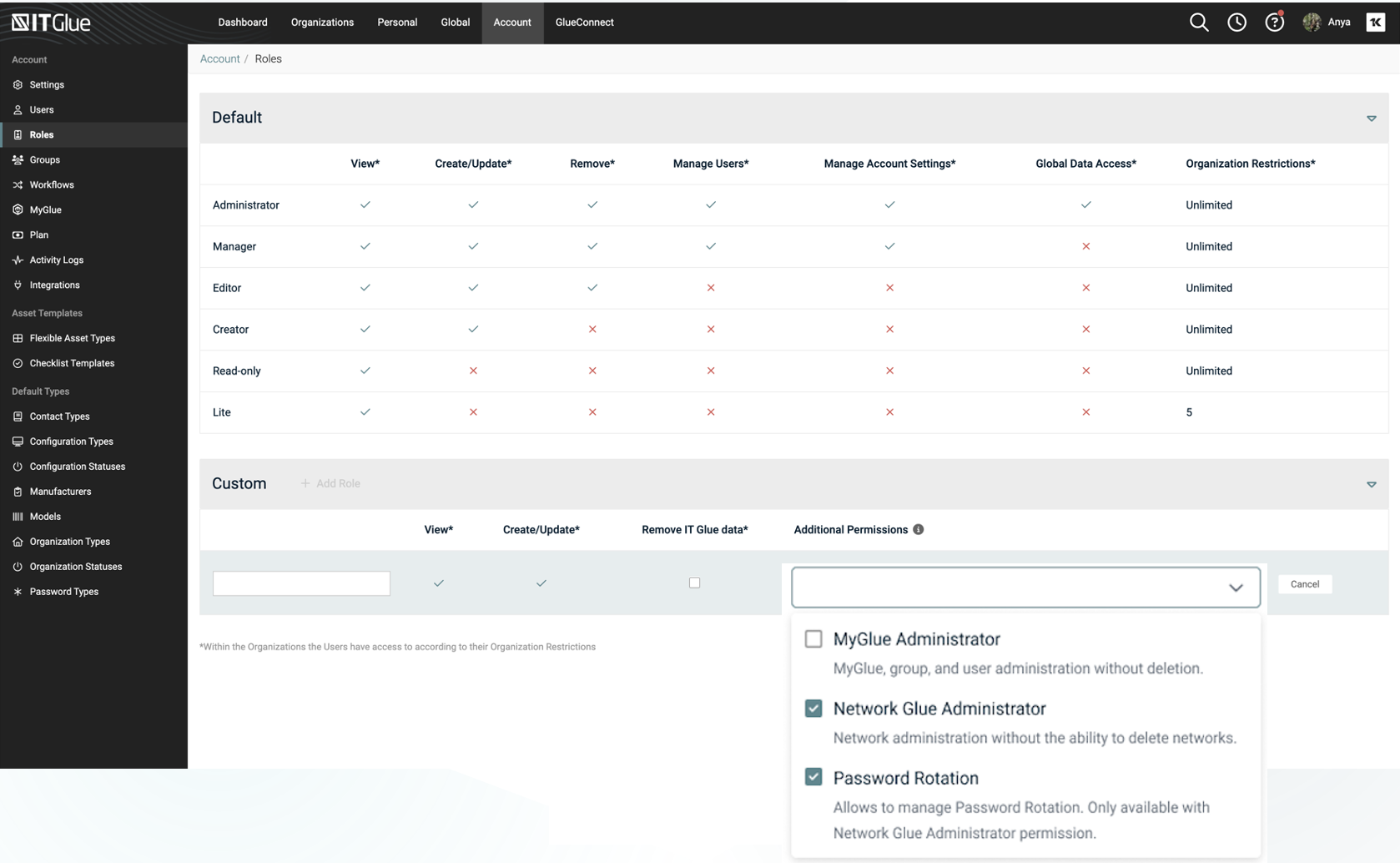 AD Password Rotation Roadmap: What's Next?
But we're not stopping here. We're committed to further improving this feature, and we have a roadmap of enhancements on the horizon:
Scheduler Per Organization (Q4 2023): We're working on a feature that will allow you to customize password rotation schedules on a per organization basis to match their unique needs, offering enhanced control and flexibility.
Azure Passwords (Q1 2024): One of the most anticipated updates to this feature will be the addition of Azure passwords, providing a comprehensive solution for both on-premises and cloud-based password management.
Stay tuned for these exciting developments and more, as we continue to provide you with the most advanced and comprehensive password rotation solutions in the industry.
For more information on the new 1-Click AD Password Rotation features and how IT Glue can save you time, increase productivity, and enhance your cybersecurity efforts, please visit our Knowledge Base article. Discover why over 300,000 users trust IT Glue to save them time and increase their productivity with industry-leading, centralized and consolidated IT documentation.