The IT industry is ever-evolving and so are your IT business processes. As your organization grows, it's likely that your team structure requires some changes. You might need to update your permissions settings for all your documents, which can be time-consuming, prone to human error and decrease your productivity.
To help you overcome this issue, we are excited to introduce our new feature — Bulk Security for Documents, which speeds up the process without the need for updating each document's security setting one by one. This saves you from wasting valuable time and allows you to edit IT Glue document security settings instantly.
Getting started
In IT Glue, you can already perform bulk actions in an instant to move, archive, copy and delete as many of your documents as you need. This allows you to update your IT Glue documentation faster and more effectively.
Now, you can also easily change who can access which documents for multiple groups or users at once with the new Bulk Security for Documents feature. You no longer have to experience the pain of changing every individual document's security setting. As a result, you can increase your productivity significantly.
You can utilize Bulk Security for Documents in IT Glue for even more efficiency and granularity so that only the right people can view and edit existing and new documents.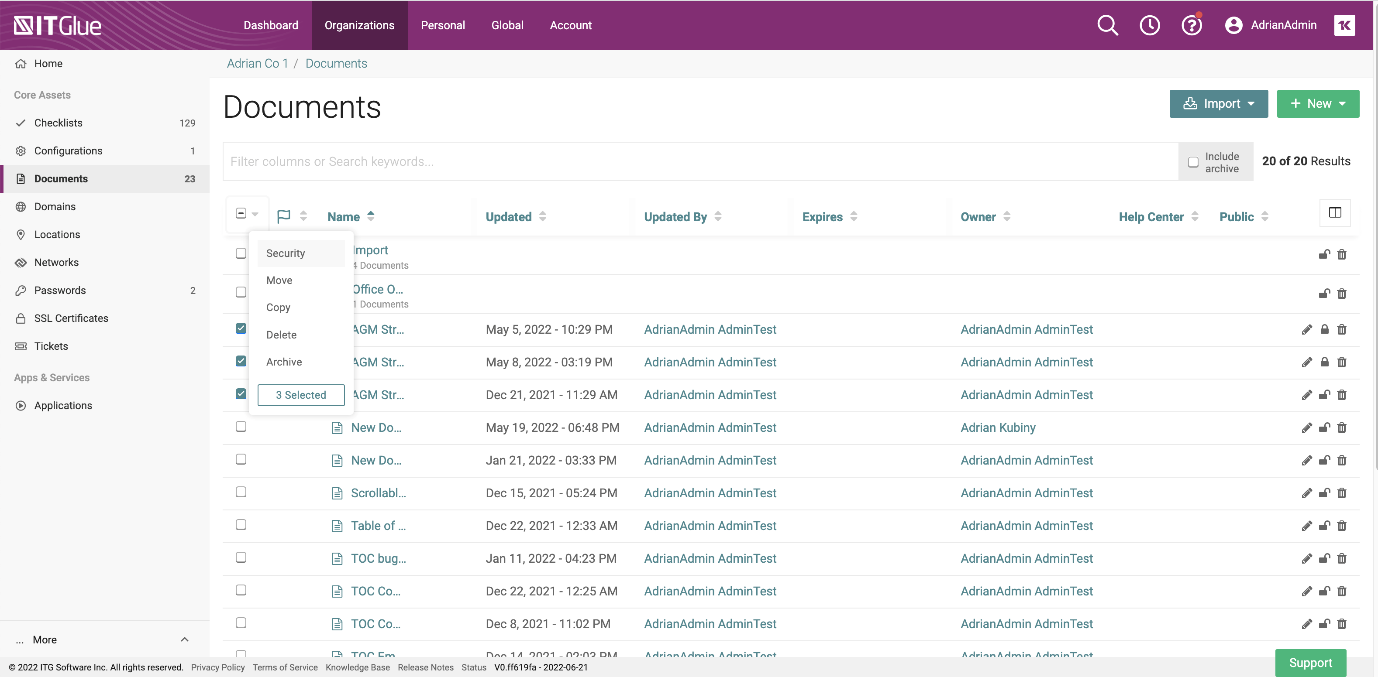 Easily update, modify and change security settings for IT Glue documents
Being more specific with your permissions for certain documents can come in handy in various everyday situations for any IT team and business. Bulk Security for Documents can be particularly helpful in these scenarios in an IT administrator's everyday tasks:
Compliance: You may need to add more granularity to narrow down specific groups and users and update their permissions so they will reflect compliance regulations. You don't need to worry about missing a document or ensuring your company's compliance.
Internal changes: When there are structural changes or personnel shifts within the organization, you need to quickly change the security settings for sensitive documents. This task can be completed at a significantly faster pace with bulk edit.
Easily share IT Glue documents with MyGlue customers
Collaborating with your customers has never been easier. With Bulk Security for Documents , you can also easily add and remove MyGlue users and groups to edit documents.
You can quickly begin collaborating with your customers by bulk selecting the appropriate MyGlue users and groups with whom you want to share documentation, such as IT policies and BCDR plans.