Passwords are the first line of defense while protecting your data and sensitive information. Not changing or renewing them at regular intervals puts your organization at risk. This is a common problem as manually rotating passwords one by one is tedious and time-consuming.
That's why we're introducing the new 1-Click AD Password Rotation feature that lets you easily rotate on-prem Active Directory (AD) passwords directly from IT Glue. This feature offers several benefits like bulk-rotate and automatically syncs new passwords back in AD. Let's look at this feature in greater detail. 
All your AD information in one pane
Having all your critical information in one place as a single source of truth helps you easily implement password best practices and meet compliance requirements. Consolidating all your AD information in one pane is possible with Network Glue — the automation engine that documents all of your managed and unmanaged devices, provides up-to-date network diagrams, and consolidates all cloud, hybrid and on-premises user information from Azure AD and AD.
With Network Glue, you get complete IT visibility in real time so all your assets are always documented. You can automatically document users, groups and passwords in one pane. It lets you bring in contextual Azure AD and AD user information — including status, last login, password expiries and the last password reset information — directly into IT Glue.
1-Click AD Password Rotation: Single on-demand rotation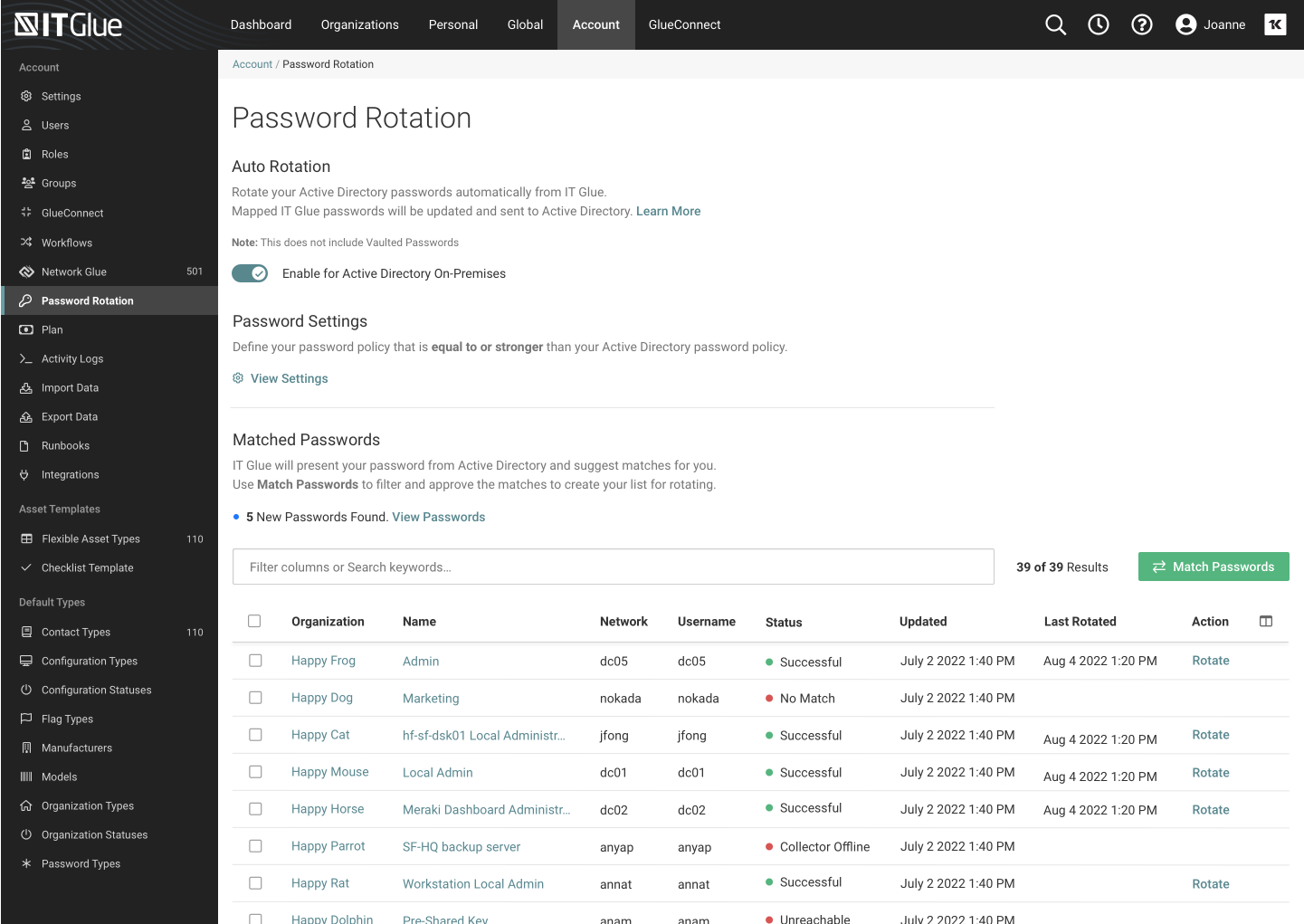 With the new 1-Click Password Rotation feature, you can automatically rotate all on-premises AD passwords with a single click to reduce credential stealing and security risks. It makes life easy for your help desk technicians. When a user locks themselves out of their account or forgets their passwords, or wants to upgrade their password security, technicians can help them quickly and safely rotate their password in one click from IT Glue.
The best part is that once the passwords are changed in IT Glue, they are automatically updated in the AD, which leaves no room for human errors in the process. Technicians also don't have to refer to multiple tools and can save time by automating all that manual work.
The 1-Click AD Password Rotation lets you view on-prem AD password details such as last rotated, status, updated date, and the network and organization the AD password belongs to.
1-Click AD Password Rotation: Centralized account management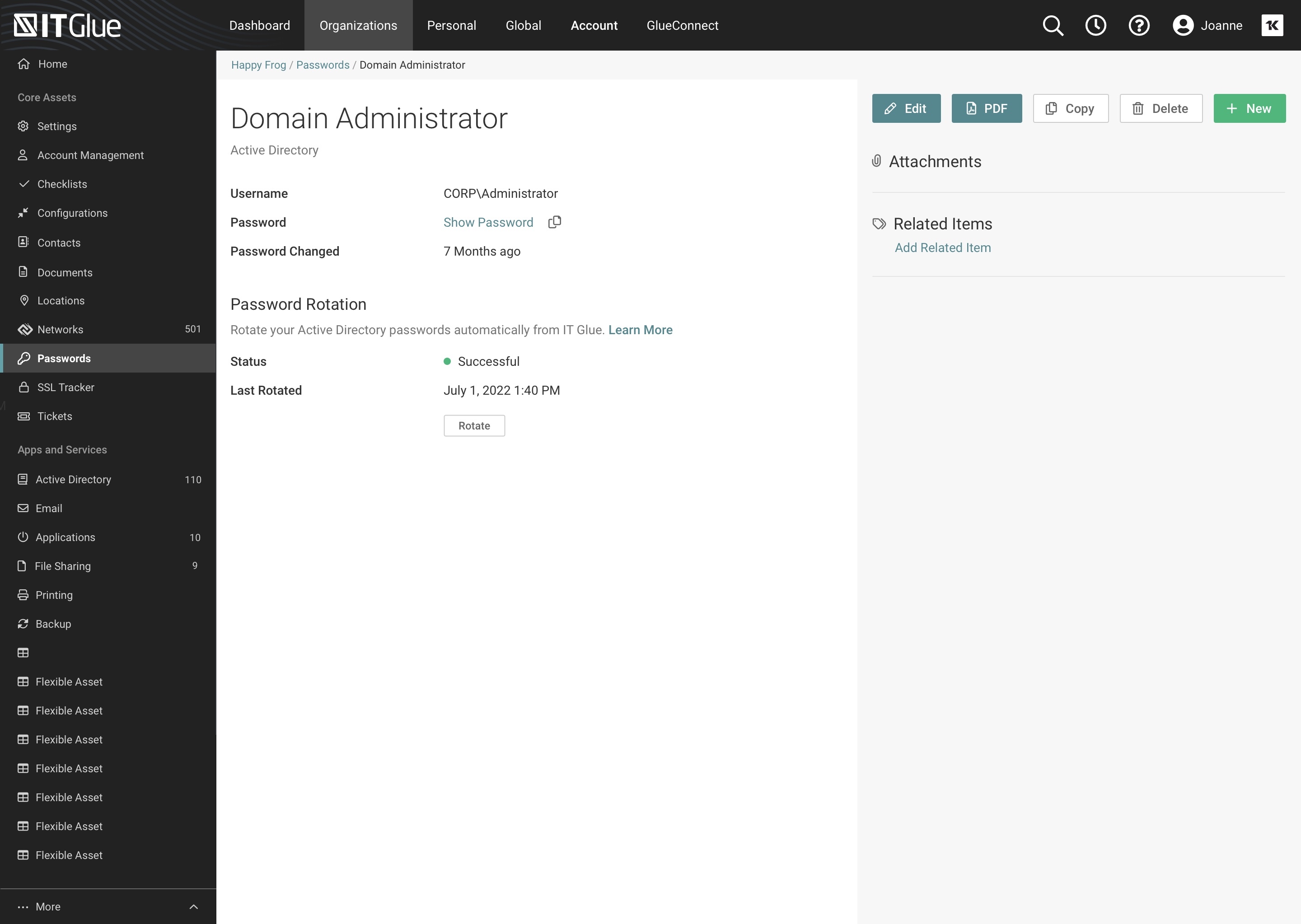 You can now bulk-rotate on-demand Admin Service accounts with the 1-Click AD Password Rotation feature for greater security. It lets you rotate multiple passwords at once by selecting the administrator passwords you need to update on a regular basis.
This new feature saves valuable time and reduces mistakes while rotating passwords. You no longer have to do this manually one by one but can instead focus on more important tasks. The feature also shows you new AD passwords, which are not yet recorded in IT Glue, and lets you easily update them to minimize security vulnerabilities.
With the introduction of this new feature, you no longer need to purchase another tool just for password auto-rotation — it's now available within your IT documentation solution.
Learn more about the new 1-Click AD Password Rotation feature in this Knowledge Base article. Discover why over 300,000 users trust IT Glue to save them time and increase their productivity with industry-leading, centralized and consolidated IT documentation.
Request A Demo