Elevate your ticketing workflow with multitenant documentation and automated asset management
As an IT professional, you're probably already wearing a lot of hats and troubleshooting new issues as they pop up. Besides dealing with the ever-changing IT industry, you also need to stay ahead of the game to effectively support your organization and show your team your value. The best way to do this is by improving your service desk and ticket resolution times as well as overall operational efficiency with the help of automated asset documentation.
To close tickets faster, you need to work from your preferred ticketing tool. You also need to automate all asset documentation within your network, regardless of whether it's about an up-to-date network overview or device information. Moreover, you need easy access to user data with the help of multitenant documentation.
In IT Glue, you get all of this and more with Vorex and Microsoft.
Ticketing and documentation: Better together
Due to the rising dependence on technology in the business world, IT tickets are getting more complex every day. Also, the sheer volume of tickets has increased manifold in recent years. To help you navigate through these tough times, we have made ticketing simpler for you.
With the Live Ticketing Vorex integration, you can work on tickets out of your preferred platform, either IT Glue or Vorex. Both interfaces have the same look and feel, in-line editing capabilities and allow technicians to update and log time from either platform adhering to their work practices. You can enhance efficiency as a result of staying in the environment you are most familiar with. This integration allows you to create, view, assign, update and close a ticket in IT Glue or Vorex.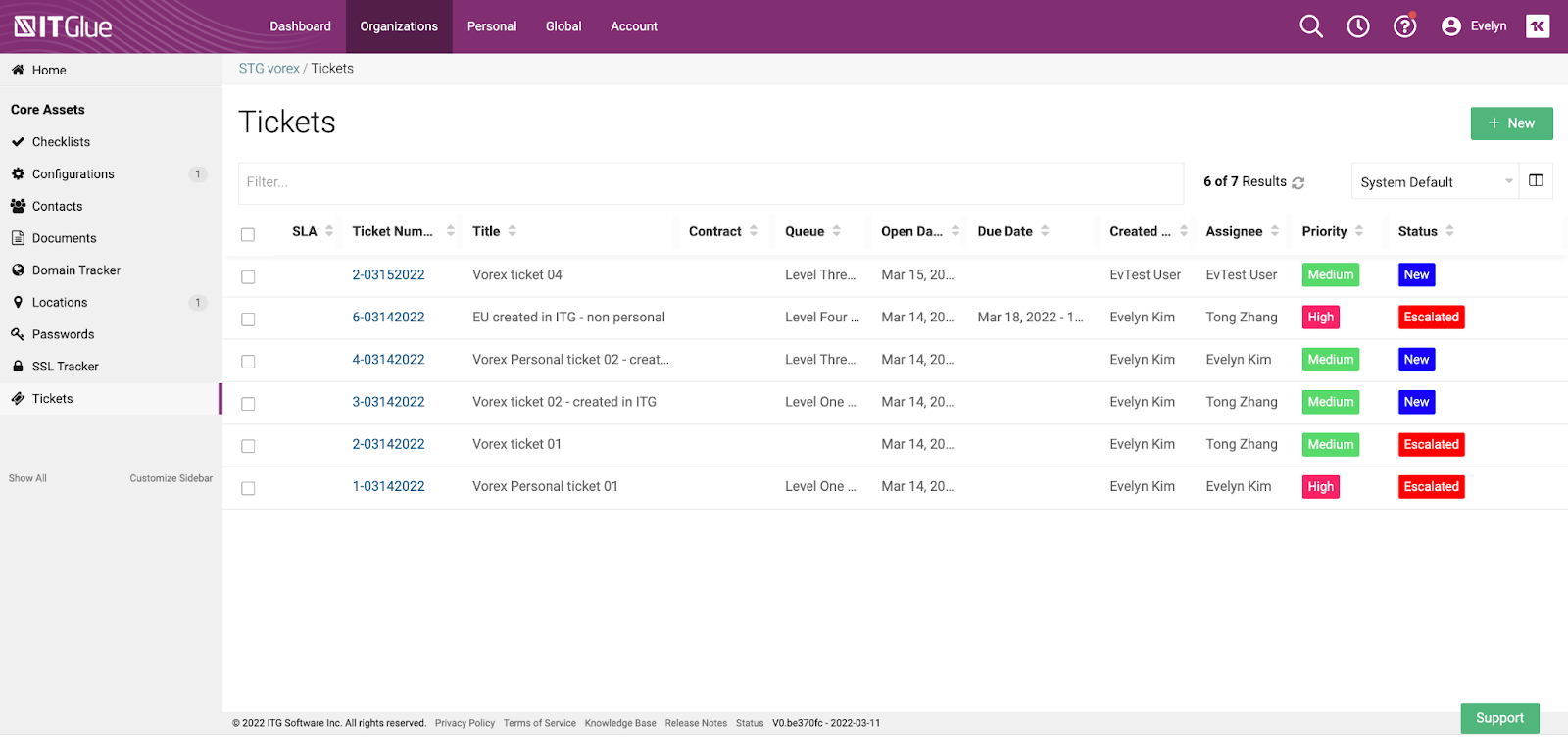 Auto-suggested documentation
Vorex and IT Glue also work together to deliver relevant information to your technicians through auto-suggested IT Glue documentation. This enables you, as an administrator of IT Glue, to create a workflow that picks up on Vorex ticket context and suggests relevant IT Glue documents and passwords for technicians to quickly reference. As a result, it frees you up from manually searching for relevant KB articles or standard operating procedures that technicians may need as they work through tickets.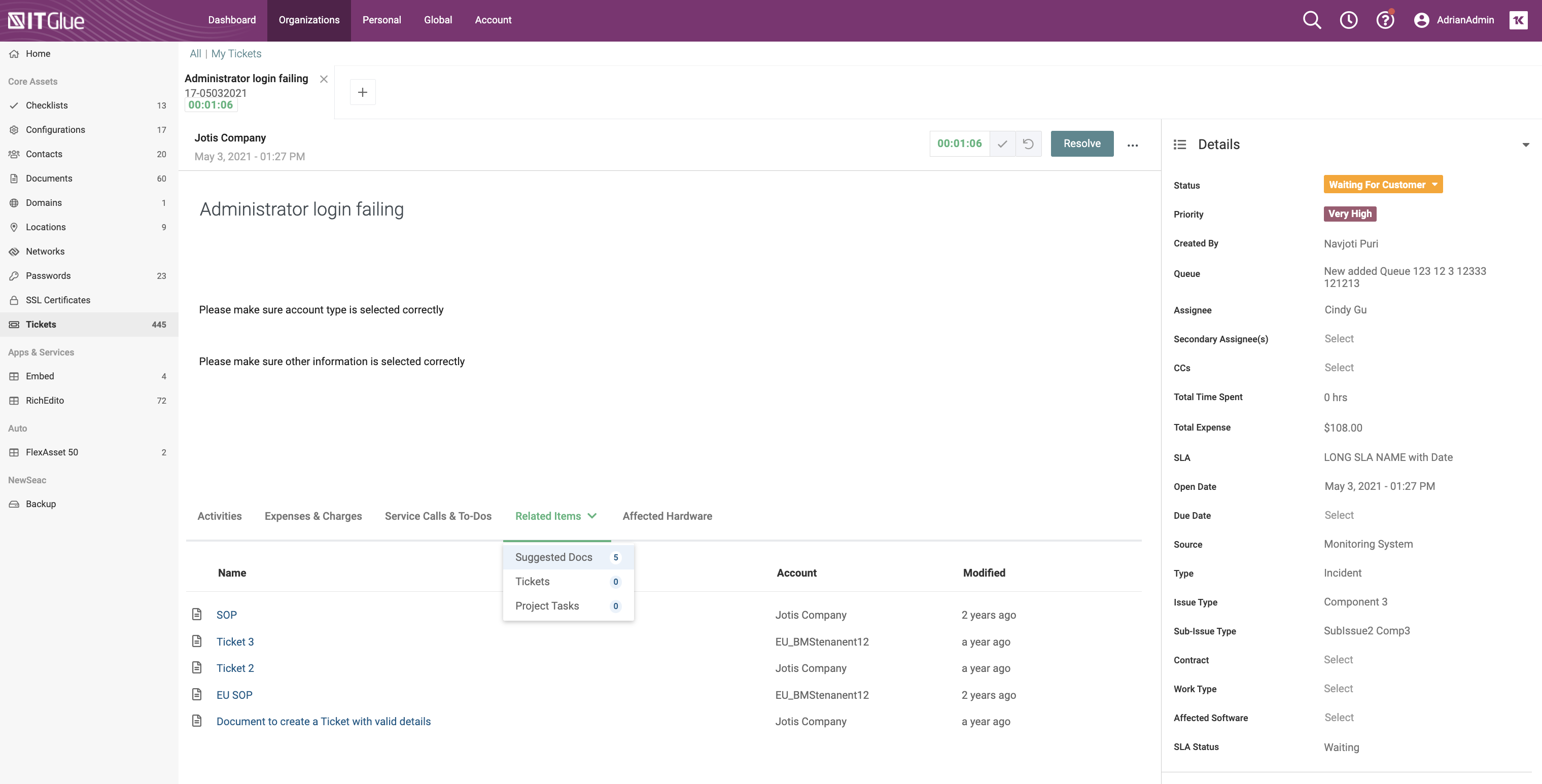 Automated asset documentation and tracking
Documentation is only useful if it is up to date. However, this takes a lot of time and effort if done manually. So, automated documentation is the way to go.
IT Glue automates asset documentation in the following ways:
New integration: Leverage Microsoft Intune to automate asset management
Integration is at the heart of IT Glue — automating and centralizing the IT information that you need from your core tools like service desk, backup, endpoint management and more.
Automate your asset management by leveraging a tool you already use — Intune. By plugging in Intune to IT Glue, you can have a consolidated view of your IT assets so you have a complete understanding of what assets you have, where your assets are and who has your assets. In addition, having all of this asset information consolidated means that you can then easily relate to passwords, applications, how-to guides and more for one-click access.
Automated network device documentation: Network Glue
Beyond automating the documentation of the managed devices, network and virtual devices also play an integral part in your IT.
With Network Glue, not only are network and virtual devices automatically documented, you get automatic notifications of devices that aren't documented yet. This way, you can get a holistic view of all the devices on your network and never miss a beat.
Automated user documentation and tracking – 
Microsoft  365, Azure AD and Active Director

y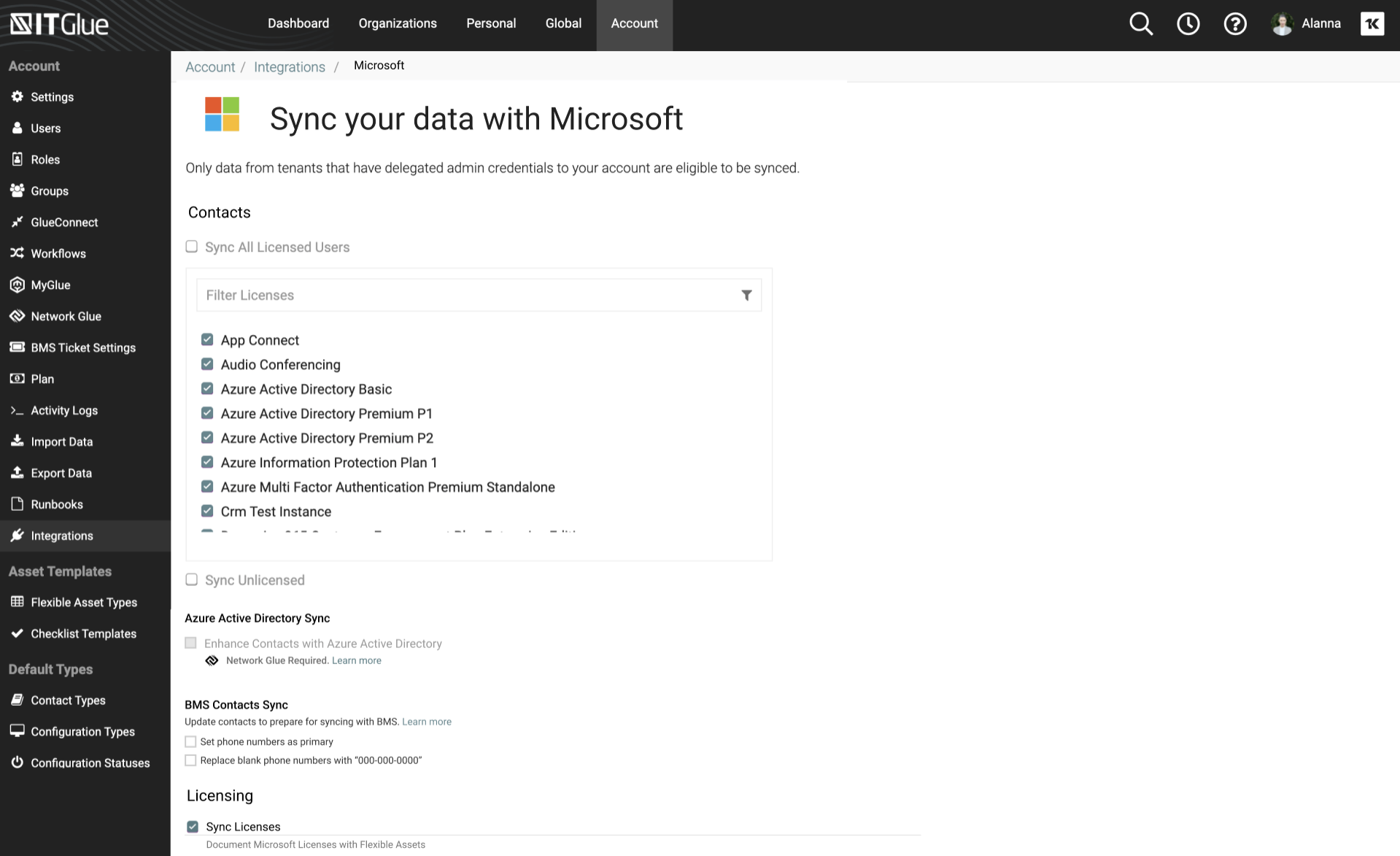 Now that you have a pulse on all of the devices in your network, you also need the same for your users as well, since staying on top of all your users' information is tough with new employees onboarded/offboarded every day.
Automate and consolidate cloud, hybrid and on-prem multitenant user information from Azure AD, Active Directory and Microsoft 365 into one pane. With these three solutions together in IT Glue, you can easily relate user information, identify who has which assets and where the user is located for quick support.
With IT Glue, you can centralize your Microsoft 365, Active Directory and Azure AD information into one, even if they are under multitenants. This way, you can see all user and license information across all locations that you manage from one single pane.
Conclusion
IT Glue centralizes all your asset and user information into one, so you have a full inventory to get a complete understanding of the assets you have, where your assets are and who has your assets.
In addition to providing you with a centralized repository, this information is automatically surfaced within your service desk through Vorex, so you can efficiently and accurately resolve end-user issues.
Book a demo of IT Glue and Vorex now.